Not only was I lucky enough to meet five fabulous authors during Dark Days of Supernatural (here you can see
part one
and
part two
), the next night I got to meet Alyson Noel! I know! Isn't that awesome? Yes. Yes, I do realize how lucky I am.
Alyson Noel - Signing June 9, 2011- Oregon
I decided to leave my house early so that I could get a decent seat, and I ended up being super early. I got there at 4:45, and the signing didn't start until 7:00! I guess I just got lucky because there was hardly any traffic.
I got to Powells bookstore, and I had to double check that I was even in the right place because they didn't have anything set up for it. They actually didn't set anything up until about an hour before! I thought that was kind of odd, but whatever.
Kristina (from
My World of Books
) was also there, and we snagged seats in the front row! Yay! While we waitied, I went and bought a copy of Everlasting because I couldn't resist having a signed copy (even though I don't even have the fourth and fifth books). Then I decided that I should buy a book to giveaway, so I went and bought a copy of Shadowland to giveaway to one of you guys! Details on that soon.
Her latest book, Everlasting, was just released. Isn't it gorgeous?
As always, you can click on the pictures to make them larger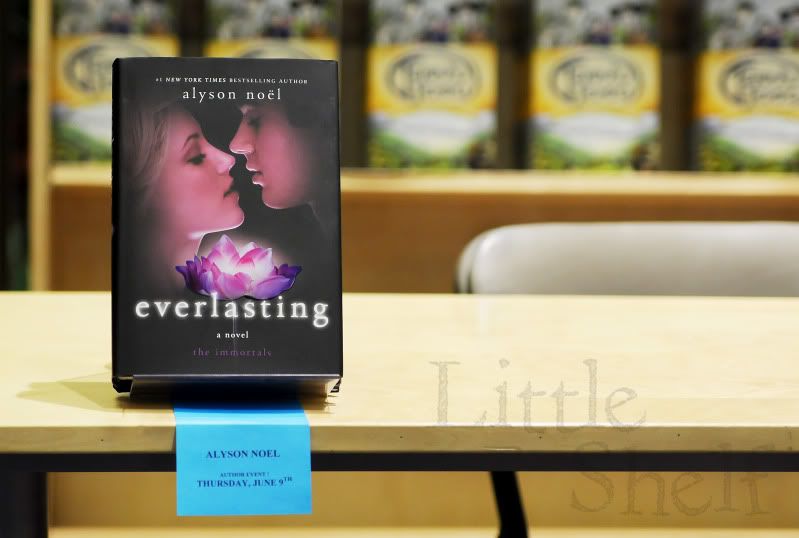 Alyson was a little bit late, because she had lots of flight drama. I'm not sure all of what happened, but I do know that it involved a four hour layover and some destroyed luggage. I sure do appreciate that she flew all the way out here and put up with all of that for her fans! She wasn't all that late, and it was worth it.
As soon as she came in she told us all about herself and her new book. Everlasting is the sixth and final book in The Immortals series. There are two books that are a spin-off that feature Ever's dead little sister (don't worry! That's not a spoiler! You know that from the beginning of book one).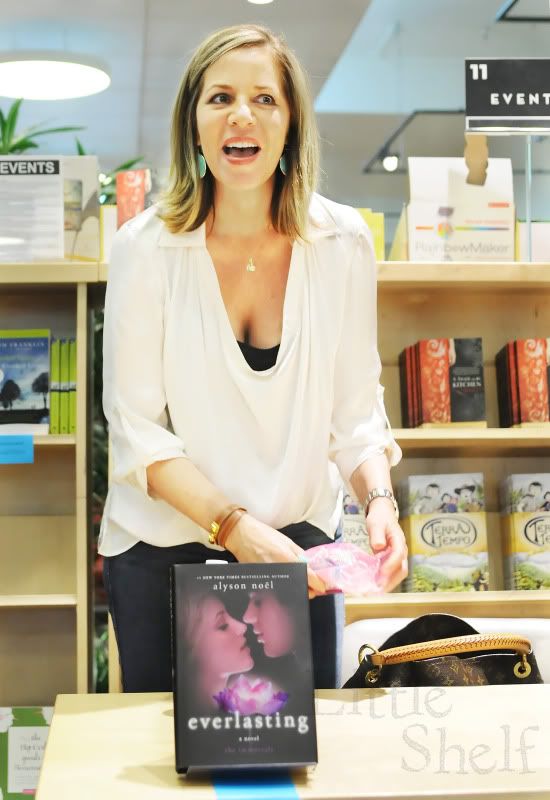 Alyson told us that she was sad to be done with this series, but that she is very excited for the book series she is working on. I'm pretty sure it was called the Soul Searchers series, or at least something similar. I really should take notes. I can't take notes and take pictures at the same time though!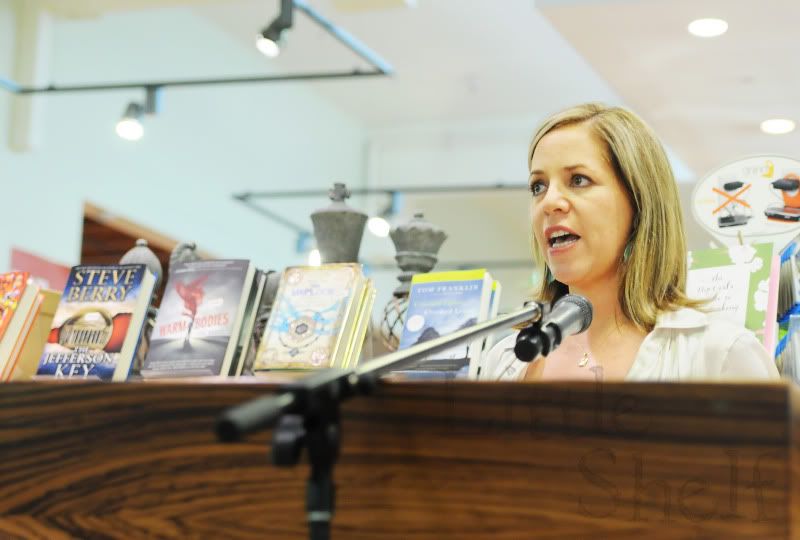 Then she said she would skip over the reading from her book since she was late so that she could do some Q&A and then start the signing, but someone in the audience asked if she would mind still reading. I'm glad she did! Who doesn't want to hear the author read?? I even got a video of it! I think it came out pretty good!
This video
CONTAINS SPOILERS
! Please, only watch if you have read the first five books, or if you don't mind knowing what happens. I really
hate
spoilers, but I just had to hear her read. It was worth it. :) This is the beginning of Chapter One:
After she read (which was awesome!), she answered some questions. She was fascinating to listen to! She told us all about her relationship with her editor, and about her new seven figure book deal (well, someone asked about it).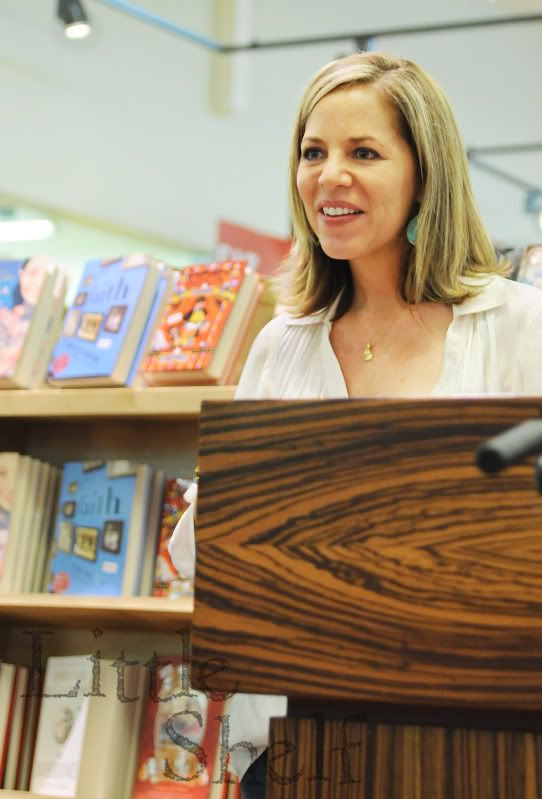 She is also talking to Summit (I think. They're the same people who made Twilight) about turning Evermore into a movie. Someone asked why some of the books are available in hardback and others not, and she told us that that was because of the publishers.
Also, the model on the first couple books came from stock photos (which is why North of Beautiful and Evermore both have the exact same photo on the cover:
After that, they decided to shoot their own model so that they wouldn't have a different book with the same cover all over again. Book two was already in the works, so their new model started at book three and continued until the sixth. The cover she has in her hands in this picture is the UK version, not that you can really see it: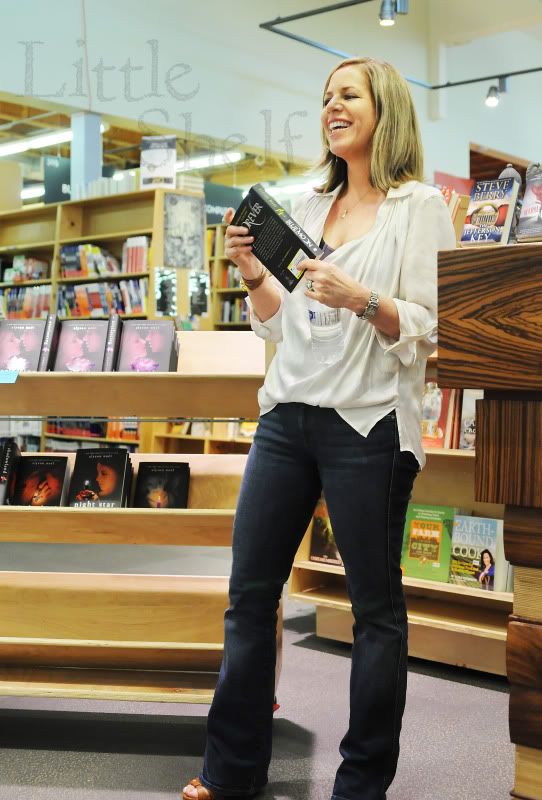 She talked and laughed, and was just overall so fantastic. Really, I don't know what it was about her, but she is just as magnetic as her book was to me (I'm talking about Evermore. I'm reading book two right now). Plus, it was pretty awesome to combining two of my favorite things, books and photography! These pictures were much easier to take without the giant, bright window that I had at the Dark Days signing. Not that these weren't a challenge too!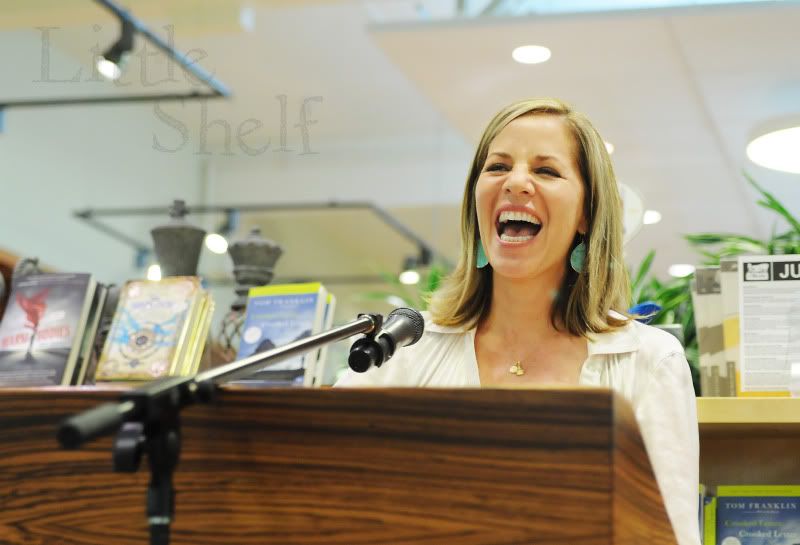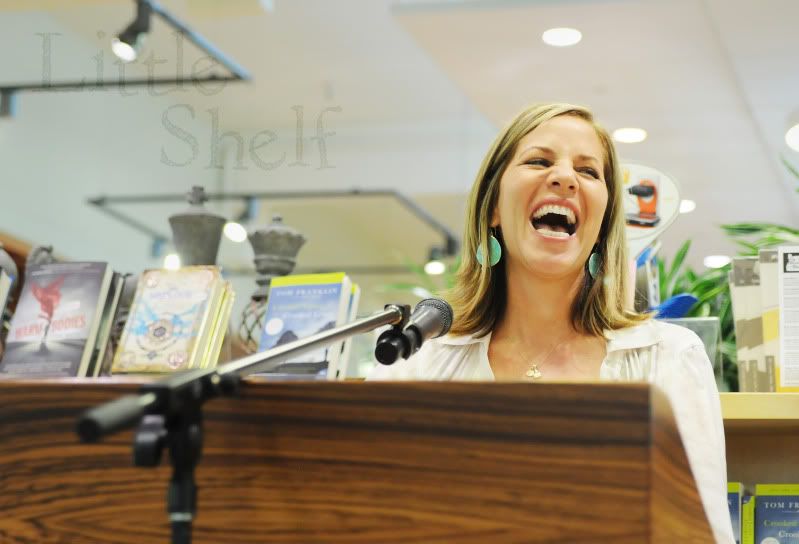 Isn't she gorgeous?
After questions, she got out her bookmarks and stuff and started signing! She talked to us and asked us questions.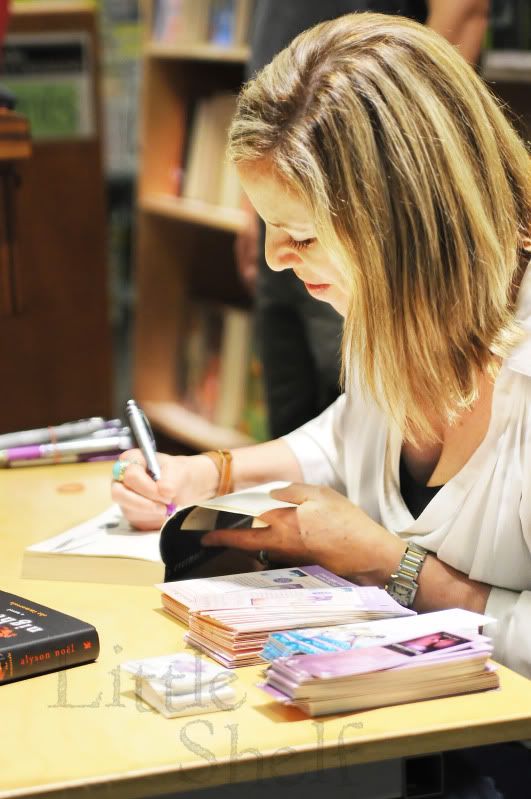 She gave us two different bookmarks and two different tattoos. If we had the book signed to someone else, she gave us some for that book, too! So, the book I have to giveaway will have them. Yay!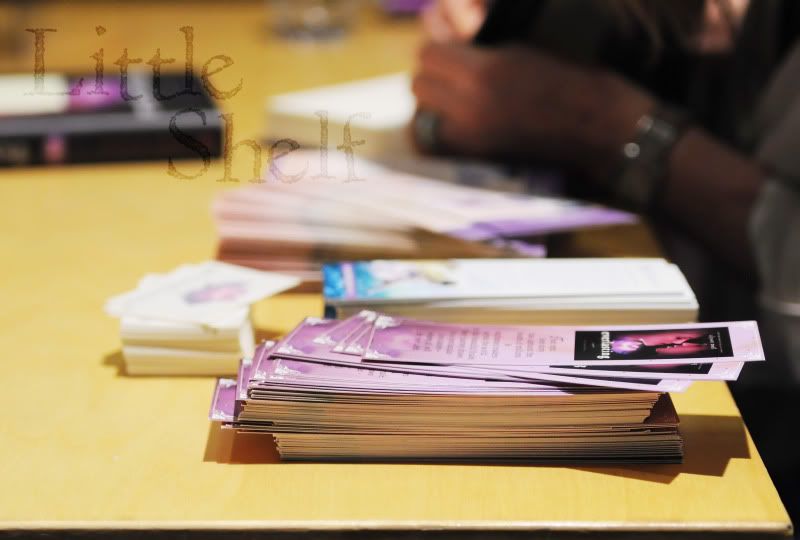 It was so fun! If you haven't read Evermore, do! You can read my review of it
here
. Basically, it was awesome!
Giveaway to come! Kristina at My World of Books is also doing a giveaway, so check her out!